Local man charged after dispensary raided for the fourth time
Written by Paul on October 19, 2018
A 40-year-old local man has been arrested and charged with possession of cannabis for the purpose of trafficking after a raid at Green Leaf dispensary today.
Kahnawake Peacekeeper cruisers arrived to the shop on highway 138 around 1:30 p.m. on Friday afternoon. This is the fourth raid at the site since June.
K1037 was onsite Friday morning, before the raid, as customers waited in line to make cash-only cannabis purchases at the dispensary. Many customers appeared to be travelling to the shop to avoid lineups and dwindling supplies in Montreal. Peacekeepers remained onsite this afternoon turning away potential customers.
"It's illegal. It goes against the wishes of the community at this point in time, it goes against the existing laws," said Chief Ratsénhaienhs Lloyd Phillips about cannabis sales on the Territory. Phillips holds the Community Safety portfolio and was on the Tetewatha:ren talk show on Friday  afternoon.
The Mohawk Council of Kahnawà:ke (MCK) issued a press release Friday morning reminding the public that, "At this point, there is no law in place that would allow for the sale or manufacturing of cannabis in Kahnawà:ke."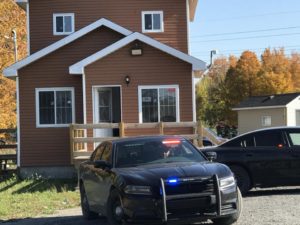 ---